Wifi is everywhere, and there are many risks associated when you have your own Huawei router. Some hackers can hack your Wi-Fi router and take up all the internet bandwidth you have to offer. Sometimes, the opposite happens when suspicious individuals try to brute force to get into your Huawei router settings. Even if your router is not compromised, it's always a good idea to change the Wi-Fi name and password just to be sure of future incidents.
Ideally, you should change your Huawei Wi-Fi name and password once a month. But if your router is compromised or you are feeling that you are not getting full high internet speeds, then it's time to change the credentials. Many hackers can also brute force into your Huawei wifi router in order to change bandwidth settings, so make sure to change the login credentials from time to time.
How to Change the Wi-Fi Name and Password
In order to change your wifi name and password, you need to have access to your router. Either you can connect your Android device with the HUAWEI HiLink app and then do these changes easily. If you have a laptop device, you can go to the router page to make these changes.
Change Wi-Fi name and password through the HUAWEI HiLink app
Download and install HUAWEI HiLink app on your Android mobile.
Sign in to your account. Create one if you don't have any.
Follow on-screen instructions to connect your router to the app.
Click on the settings icon against your router.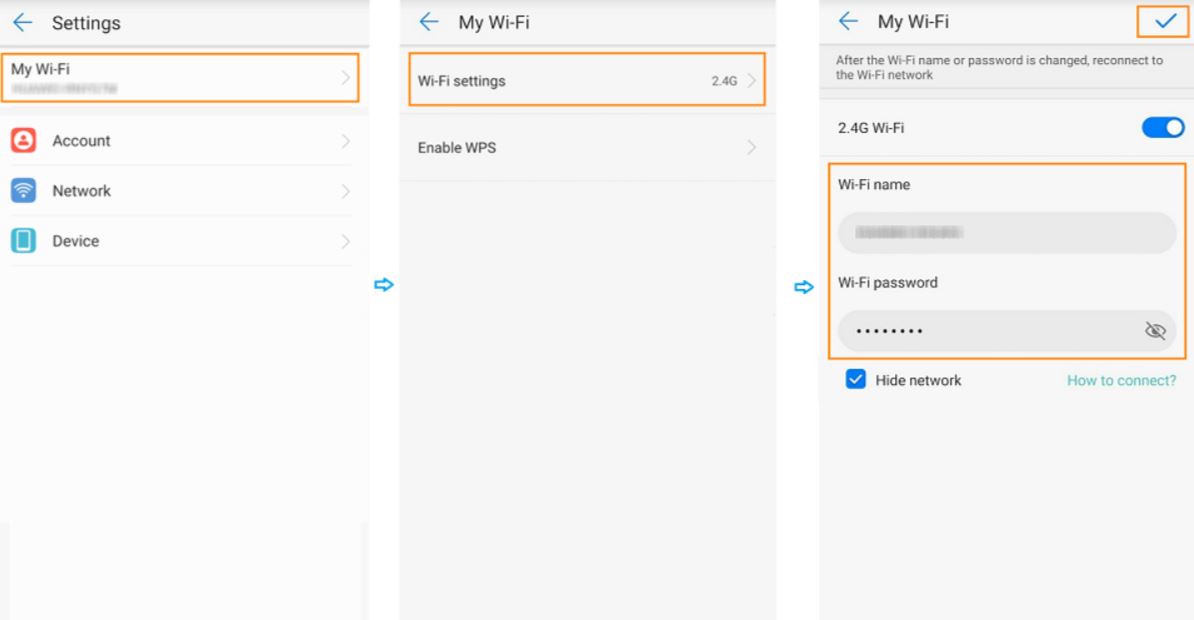 Go to My Wi-Fi > Wi-Fi setting. Set the new Wi-Fi name and password in the Wi-Fi name and Wi-Fi password.
Click on "√" to save the data.
After changing the Wi-Fi name and password, your device will disconnect from the Wifi. You have to re-enter the login credentials and connect with Wi-Fi again.
Change Wi-Fi name and password through Laptop
Connect your laptop with Wifi and open the login link for your Huawei router. In most cases, the default router gateway link is 192.168.3.1 and 192.168.0.1, respectively.

If you are not able to log in with the router gateway link, you can connect your laptop to the router with a LAN port.
Login to your Huawei router with your login credentials.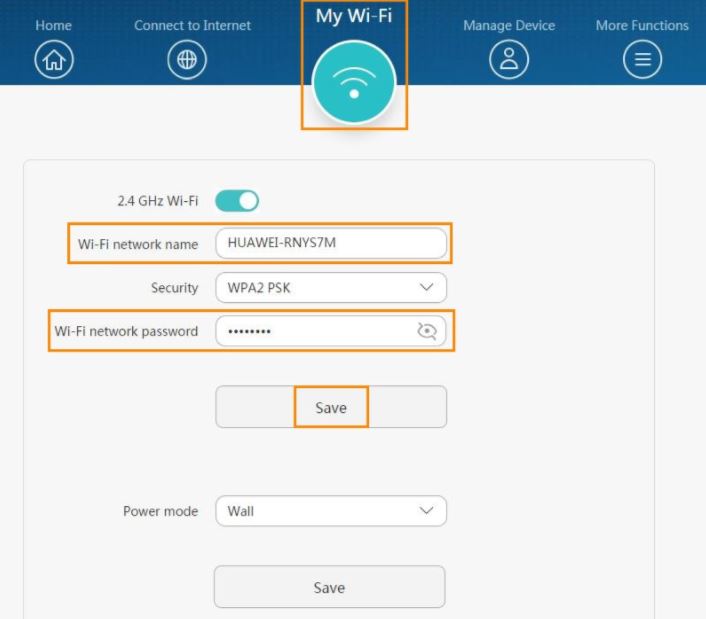 Conclusion
Changing the Wi-Fi name and password is a very crucial step in order to safeguard your router and internet speed. You can also do the configuration after connect your router with an ethernet cable. For Android devices, you have to download the HUAWEI HiLink app from Play store and follow onscreen instructions to connect the app. The ideal time to change passwords and the name of your WiFi is once a month, but if you suspect any intrusion activity, then change the password of your router immediately.
url="https://t.me/getdroidroms" target="blank" style="flat" background="#0064c9″ size="7″]Join us on telegram[/su_button]
Fahad Mahar
Fahad is a game lover and tech enthusiast, He enjoys troubleshooting with iOS & Android devices. He loves to keep in touch with the latest technology! He loves to do experiments on new Operating Systems.
Related posts