In this tutorial, we will show you the steps to change the Instagram app's icon on Android and iOS. This photo and video-sharing social networking giant recently celebrated its tenth birthday. On this occasion, it decided to give a "return gift" to its userbase in the form of an easter egg. The Facebook-owned app has added around 12 different icons for its app but has kept it buried inside the Settings menu.
These icons range from the developer pre-launch build to the first released version for the general public way back in 2010. Apart from that, it has also added the classics icons and a bunch of colorful ones in the form of Twilight, Sunrise, Aurora, pride, and Gold. Then there is something for the dark mode lovers in the form of Dark and Very Dark icons. On that note, here are the complete instructions steps to change the Instagram App icon on Android and iOS.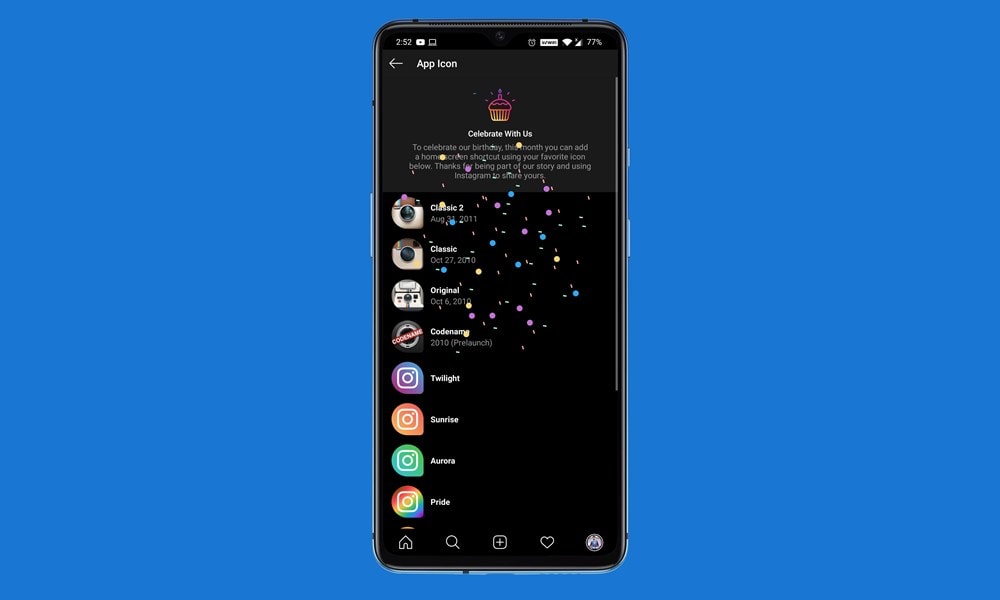 How to Change the Instagram App icon on Android and iOS
Before beginning with the steps, make sure you are running version 163.0.0.6.122 or above on your Android device or version 162.0 or later on iOS. If that is not the case, then head over to the App Store or Play Store and update the app. After which you may proceed with the below instructions:
Launch the Instagram app on your device.
Now head over to your Profile (the bottom right avatar).
Tap on the hamburger menu (three horizontal lines) situated at the top-right.

Then tap on Settings situated at the bottom.
Once you reach the Settings menu, swipe down until you see a bunch of emojis.
You will then be greeted with confetti and taken to the hidden App Icon screen.
Now tap on your preferred icon from the list and then tap on the Add Automatically button.

That's it.