As promised, the most anticipated FAU-G: Fearless and United Guards (pronounced Fauji) is finally available for download officially on the Play Store. At this point, the game is only available for Android, and depending on the popularity, may also launch in Apple iOS. Meanwhile, you can install FAU-G APK officially from the Play Store, or from the APK Downloader listed below.
Earlier this month, the developers of FAUG, nCORE Games, started the pre-registration. Today, the company launched the game to the public as early access. Here is the tweet from the developers.
The gameplay is still obscure as the Play Store listing doesn't say anything about the gameplay or more modes. We are still uncertain whether FAU-G is an online multiplayer game with Battle Royale mode or not. You can download the game and be the judge of it.
Here is what the listing says:
High up on the peaks at India's northern border, an elite fighting group protects the nation's pride and sovereignty. It's a daunting task, for the most courageous: The Fearless and United Guards.
Join a special unit of FAU-G commandos on patrol in dangerous border territory. Come face-to-face with India's enemies as you engage with hostile invaders on Indian soil. Fight for survival against the unforgiving terrain and the implacable enemy. Fill the shoes of a patriotic soldier and experience the bravery, brotherhood, and sacrifice of the men guarding the country's borders.
FAU-G is a proudly made in India project from nCore Games that pays tribute to the heroes of our nation's armed forces. Based on real-world scenarios, FAU-G brings to life the thrill and adrenaline of a life spent guarding India's borders.
Furthermore, FAU-G mobile game may only be available for the Indian market. See how to download and install FAU-G on your smartphones.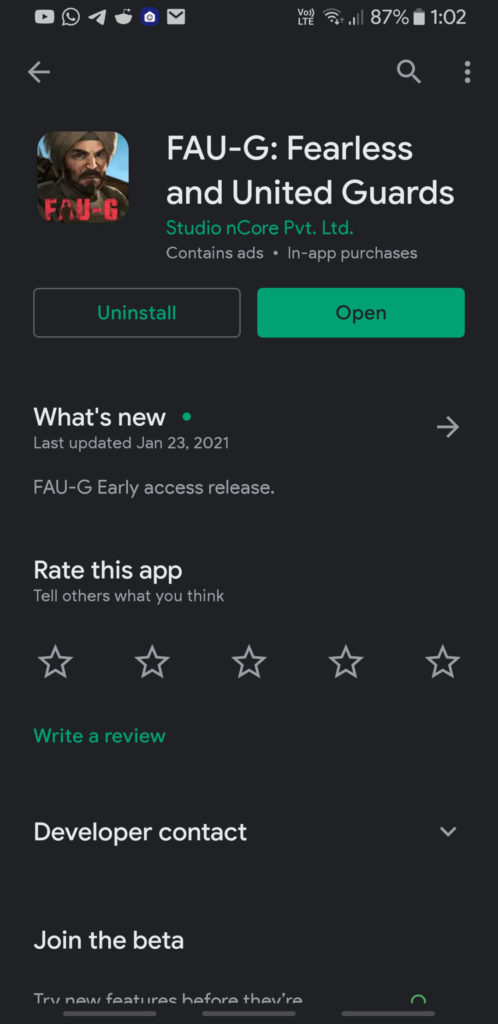 Download FAU-G APK and OBB File
FAU-G game is finally available for download. You can either download it officially on the Play Store by visiting the following link. Or get the APK separately from below.